Powered by renewable energy and smart technology, Egypt's fourth-generation cities feature the newest architecture, built through sustainable and green infrastructure, and connected through multi-modal transport networks.
In the land of the Great Pyramids of Giza, Egypt's new construction boom is underway, transforming the historic country through a hyper-connected network of energy-efficient communities providing quality jobs in sustainable living environments.
The blueprint for change is based on dozens of new smart cities currently under construction. "We are a nation of builders and, historically, we have always contributed to the success of humanity," says Hassan Allam, CEO of Egyptian construction giant Hassan Allam Holding, which is contributing to the infrastructure for this Cities of the Future program.
The strategy is already benefiting the Egyptian economy. "When you look at Egypt's story during 2020, we were one of the few countries in the world that had positive growth rates," points out Dr. Rania A. Al-Mashat, Egypt's Minister of International Cooperation. Due to its strong economic fundamentals and the economic reform program adopted in 2016, the government was able to act swiftly to mitigate the impact of the pandemic; Egypt was the only North African nation showing positive real GDP growth rate in 2020.
"A huge change has happened in the mind of the country and how Egyptians think about the future," says Ahmed Elsewedy, CEO of Elsewedy Electric, a leading Egyptian electrical provider working on the smart cities program, which also has partnerships with global enterprises including Toyota and Siemens, and operations in 100 countries.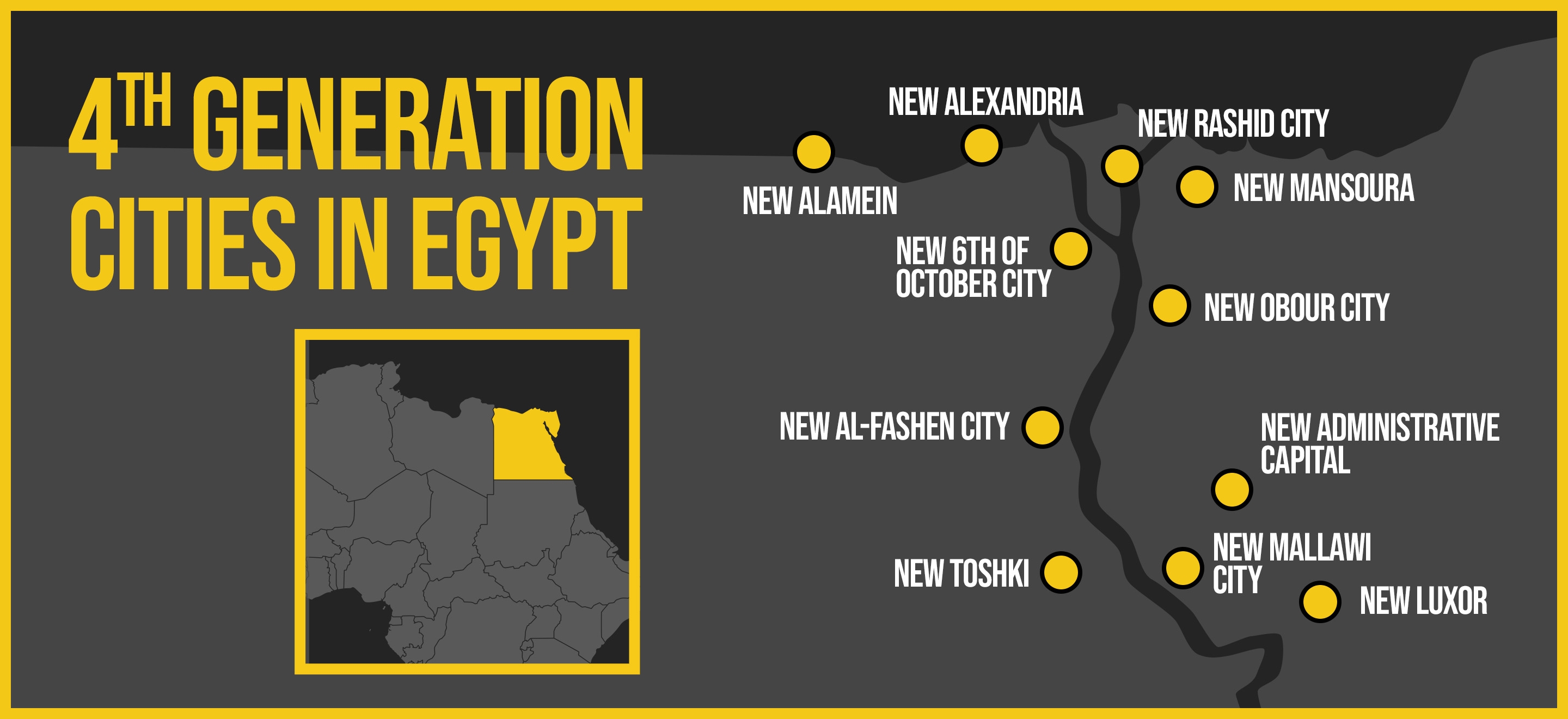 In April, Fitch affirmed Egypt's rating at B+, praising its "large economy with robust growth and strong support from bilateral and multilateral partners." More than 15% of the Egyptian economy is directly related to construction, notes Allam. "When this segment of business sees historic growth, as it has in the last eight years, it drives the economy, creates job opportunities and enhances quality of life."

"Cairo is a historic city and was built piece by piece, and decade by decade," comments Allam. "To move into the modern world, you need modern infrastructure."
Located 45 kilometers east of the bustling Cairo metropolis, a new vision for urban living in the 21st century is taking shape. The New Administration Capital (NAC) sits at the heart of Egypt's smart cities program.
As Greater Cairo has grown to a conurbation of more than 20 million residents, the NAC is Egypt's response to its population growth and the need to create sustainable communities.
Positioned to become the sustainability capital of the Middle East, the NAC will be home to key government ministries and foreign embassies. "The government designed a new city [that is] technologically-advanced with state-of-the-art buildings and infrastructure," says Allam, adding that connectivity and ease of doing business are priorities.
Strategic communications, modern transportation systems and renewable energy supplies are central to the program. "When it comes to infrastructure, plenty of work has been happening to connect cities," explains Al-Mashat. "This is crucial for transportation of people and businesses to ease and facilitate connectivity. What is happening now in transportation—high-speed lines, monorails, trains, buses—is a complete change. The same goes for energy, digital and telecoms".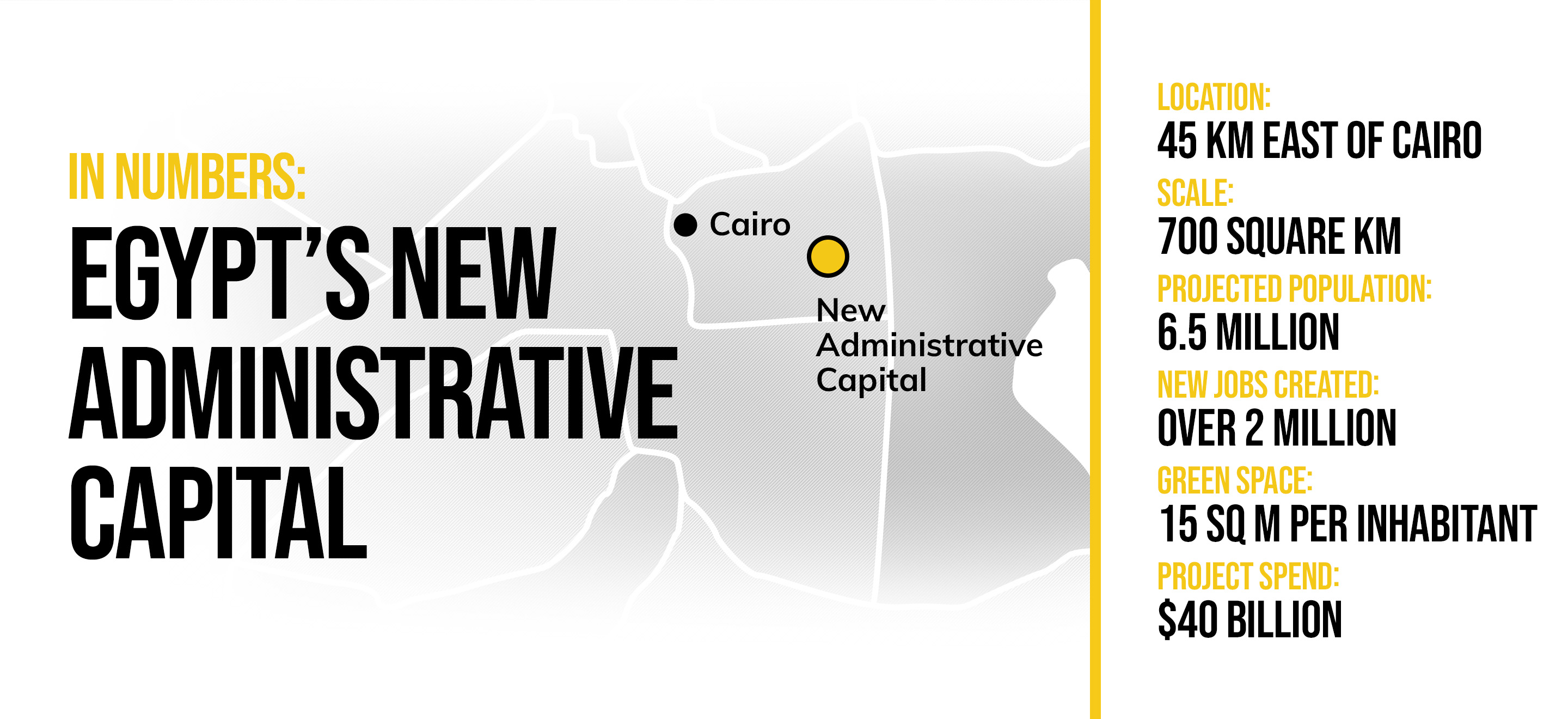 Beyond Cairo and the NAC, smart cities are being built across Egypt—from New Alamein and New Mansoura on the Mediterranean coast to New Luxor in the south. "The idea is to modernize the different areas within the country," explains Al-Mashat, who emphasizes the key role of digitalization and smart technologies in these new urban zones.
New Alamein is one of the most ambitious of Egypt's smart cities, covering 50,000 acres and with a proposed population of 3 million. It is being styled as Egypt's "Gate to Africa" and combines tourist, residential and historic sectors. The city's distinctive features include Al-Alamein Towers, a series of 170-meter skyscrapers which will be the tallest on the Mediterranean coast.
At New Mansoura, which will be home to more than 1 million, a spectacular Nile Corniche is being constructed, along with a 2-kilometer tourist marina. The smart city will have its own international university, a medical city, scientific research centers and tech zones.
"These new fourth-generation cities have everything you can possibly imagine that would be required for a high quality of life," says Allam. "We've delivered large infrastructure projects, such as water treatment plants, waste treatment facilities, and roads. We are currently building headquarters for banks and financial institutions."
The requirement for a high quality of life is incorporated into the cities' infrastructure. The smart cities are "green in nature", Al-Mashat emphasizes. The NAC will incorporate an area of open water—the Green River—as well as parklands, botanical gardens and an arboretum. It will act as the lungs of the city and be double the size of New York's Central Park.

Smart cities also need skilled workers. People are at the core of the Cities of the Future program, which recognizes the requirement for high-quality education and a talent pipeline for modern industry. Part of the government's program of structural reform focuses on ICT training and the development of STEM (science, engineering, technology and mathematics) schools. The NAC, for example, will be home to six universities that put an emphasis on vocational training.
"One of the most important things, is adding new graduates, focusing on the training and investment in our people. Our main vocational schools spread all over Egypt," says Elsewedy. "The young generation in Egypt is more than 60% of the population—we have to think of the future and a better life for them."

Powering the new cities will be made easier by Egypt's progress in expanding its clean energy supply, its Integrated Sustainable Energy Strategy has set a renewable energy target of 42% of total generation by 2035—rapidly going from "deficit to surplus" as an electricity provider, comments Al-Mashat.
"After several years of shortages in electricity, today, Egypt is able to export electricity. There are transmission channels to Libya and to Jordan, and through Saudi Arabia to the Gulf and to Sudan," she says. "What has been done in the last six years is extraordinary—the improvement in [Egypt's] electricity supply from 15,000–20,000 MW to now 60,000 MW," adds Elsewedy.
Since 2015, Egypt has been transforming its energy sector, enacting a renewable energy law, phasing out fuel subsidies, and introducing a solar Feed-in-Tariff (FiT) program to leverage private sector capital.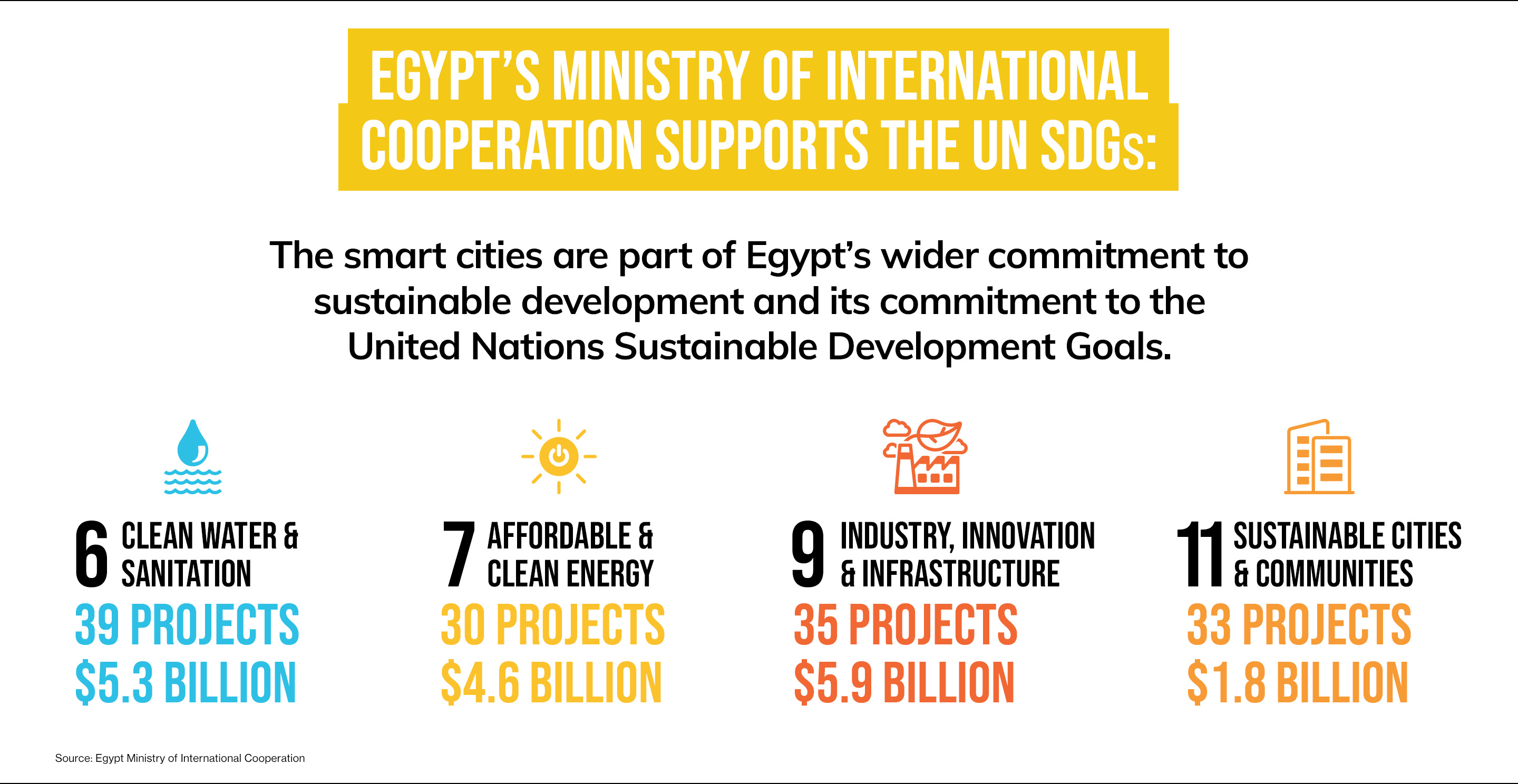 Thanks to its new network of fourth-generation cities, Egypt is well placed to attract more overseas investment. "Egypt is the dream of any international company," Elsewedy adds. "Wherever you want to invest, you'll find the opportunity in Egypt."
Al-Mashat notes the crucial role of the private sector in Egypt's progress. "Key in all of this is that the government understands the importance of private sector engagement."
Allam agrees that Egypt is "ripe for growth" and predicts that "FDI will come" because the country's smart cities point the way to sustainable development. "Once you see these cities occupied with people living, working and going to school, that is success," he says. "These cities will then develop on their own by the sheer momentum of people living there and wanting to grow."
Original Article: Bloomberg by The Egypt Ministry of International Cooperation